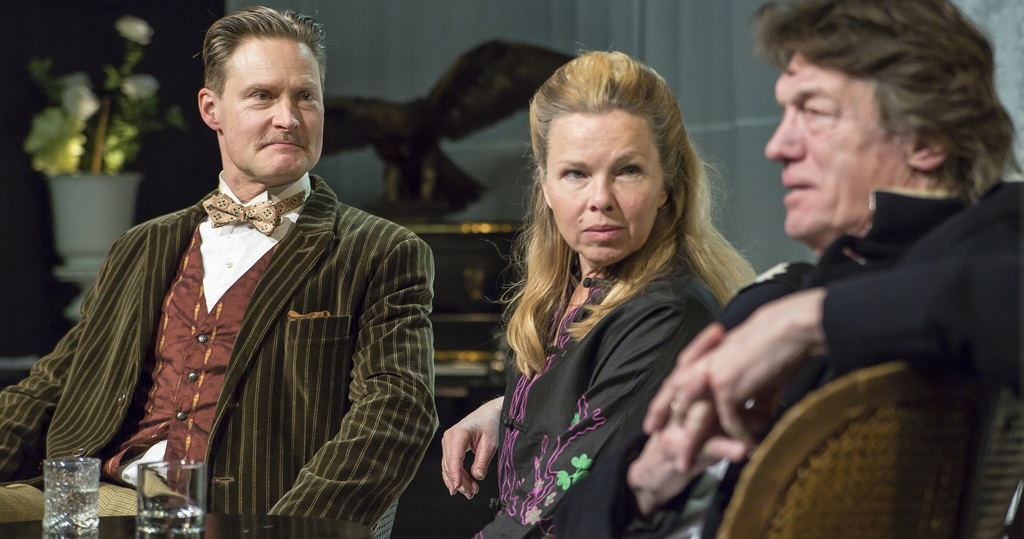 "Jag hade hunnit bli en bit över trettio när jag för första gången på allvar började fundera över möjligheten att bli skådespelare. Jag hade visserligen spelat lite teater under skoltiden och i flera uppsättningar under universitetsåren men efter en ordentlig examen i Lund hade jag tänkt bli diplomat...
Så blev det också: efter ett år som reporter och nyhetsredaktör på radio och TV, blev jag antagen till utrikesdepartementet och så småningom stationerad i Wien och Helsingfors - där jag ägnade mig åt internationella säkerhetsförhandlingar. Hemma igen, 1992, fick jag en tjänst som presstalesman. Men en kväll i veckan gick jag också på teaterkurs. Det var roligare än allt annat och jag slogs av tanken att det måste betyda någonting.
År 1994 tog jag därför tjänstledigt för att gå en ettårig teaterutbildning. Jag kompletterade med privatlektioner och kortare kurser, fick mitt första professionella jobb och hösten 1997 sade jag upp mig från UD.
Sedan dess har jag frilansat som skådespelare inom teater, film och TV och som röst i ett otal sammanhang. Och fortfarande bärs jag av den där tanken: "att något som är riktigt roligt måste betyda någonting."
"At the age of 32 I for the first time seriously started to consider the possibility of becoming an actor. I had done a little Theatre at school and acted in a number of plays at the University but after a proper exam from there, my plan was to become a diplomat...
That is also what happened: after a year working as a reporter and news editor for radio and TV, I was accepted into the Swedish Ministry for Foreign Affairs and later on stationed in Vienna and Helsinki - where I engaged in international negotiations on military security. Back home again, in the year of 1992, I took up a job as press spokesman but once a week I also attended an evening class on acting. This was more fun than anything else I did and it struck me that it possibly meant something.
In 1994, I therefore took a sabbatical year to attend a more thorough course on acting. I also trained privately and took various classes in Sweden and abroad, then got my first professional job and eventually took my leave from the ministry in 1997.
From there on, I have worked as a freelance actor in the realm of Theatre, film and TV and as a speaker voice in numerous productions. And the thought that continuous  to carry me forward is: "what is the most fun must seriously mean something."